What is the difference between CBSE, CISCE, Cambridge, and IB curricula?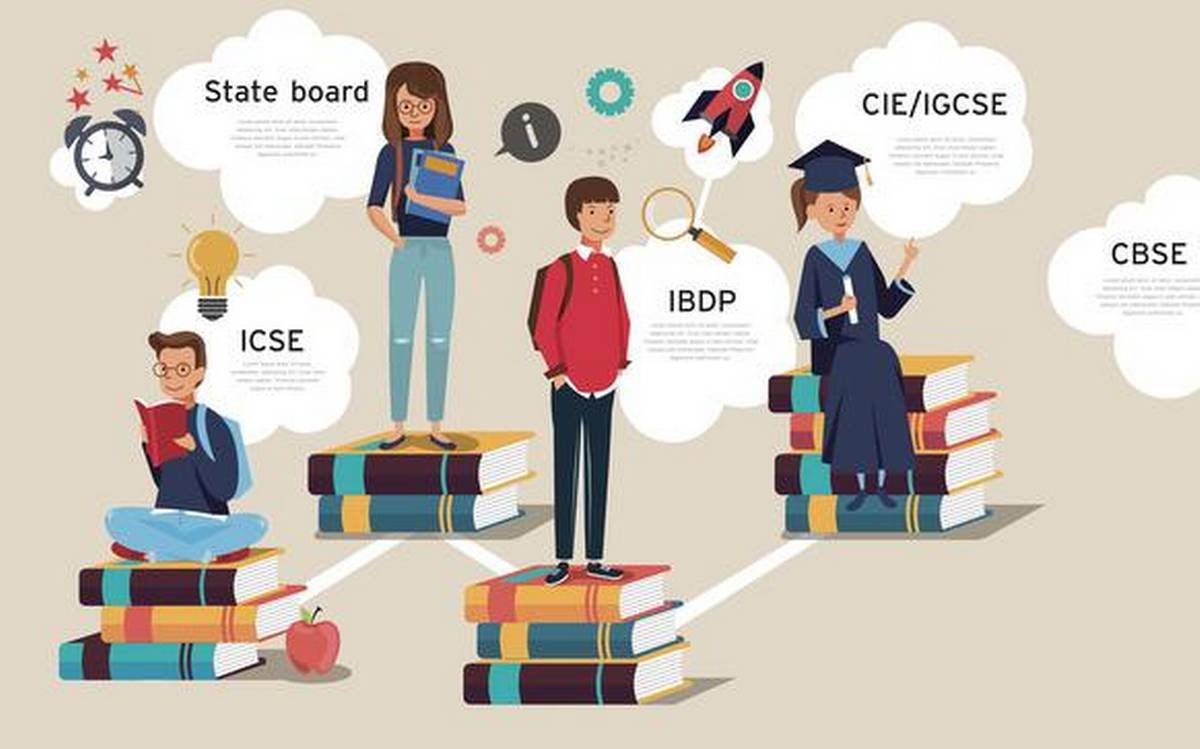 So, have you heard about the different educational boards in India? Is each one being recommended to you for its unique qualities or with the promise of higher grades? Not knowing the exact nature of each board and which one to choose can be very confusing. In this blog, we have outlined the key aspects of the CBSE, CISCE, Cambridge, and IB boards in India to help you understand and make an informed choice of where you would like to study.
What is the approach they follow?CBSE: The CBSE board focuses on the holistic development of the child through stress-free learning. It provides skill-based learning experiences and acts as a base for most competitive examinations in India, including the UPSC, NEET, IIT-JEE, CLAT, etc. This board also includes local knowledge in the child's learning experiences.
CISCE: The CISCE board is well-known for its focus on an in-depth understanding of each subject. It gives equal importance to every subject but highlights the need to clear English to pass. The board encourages students to learn from a vast syllabus to promote their analytical skills and practical knowledge.
Cambridge: The Cambridge board is an international board that focuses on developing creative and problem-solving skills among students. It gives importance to the teaching and learning methods used for education. It strives to develop the knowledge, understanding, skills, and practical applications of different subjects.
IB: The IB is also an international board that focuses on inquiry-based learning and critical thinking. This board encourages student-centric and transdisciplinary teaching-learning experiences. It also ensures that students become international-minded individuals with specific attributes and have an action-oriented approach to resolving the world's problems.
What are the subject combinations offered in the 12th?CBSE: The subjects in the CBSE are categorized under Scholastic and Co-Scholastic areas. The scholastic area focuses on core academic areas, such as languages, academic electives, and skill electives. In contrast, the co-scholastic area includes general studies and health and physical education.
Students can choose a minimum of 5 subjects that includes one or two languages (one must be English or Hindi) and co-scholastic courses, which are compulsory.
CISCE: All candidates must enter and sit for English (compulsory), with three, four, or five elective subjects. All candidates must have been evaluated internally by the school and secured a passing grade in Socially Useful Productive Work and Community Service (compulsory).Cambridge: Schools can offer subject choices in almost any combination based on the individual needs of their students. Students can take 3 to 5 A or AS Level subjects.
What are the assessment criteria in these boards?
CBSE: Students will be assessed in theory, internal, and practical components. The board exam will comprise the entire syllabus of grade 12. Students will be evaluated using a 9-point grading system in each scholastic subject and co-scholastic subject.
CISCE: External assessments are used for each subject, and SUPW is assessed internally. There is an internally assessed component for English Language Skills as well. Students will receive subject grades ranging from 1 to 9, where grade 1 to 6 indicates a pass with credit, 7 or 8 indicates a pass and 9 a failure. The standard reached in SUPW is indicated by grades A to E, where A, B, C, or D indicate a pass and E a failure. Candidates who pass in SUPW and four or more subjects, which must include English, are provided a pass certificate.
Cambridge: The Cambridge International A Level is reported on a grade scale from A* (highest) to E (minimum required performance). There is no A* grade for Cambridge International AS Levels, which runs from grade A to E.
IB: External and internal assessments are used for each course. Students receive grades from 1 to 7, with 7 being the highest for each course. The DP Core can contribute up to 3 additional points towards the overall diploma score. The diploma is awarded to students who gain at least 24 points, subject to certain minimum levels of performance, including successful completion of the 3 essential elements of the DP core.
Here are the major differences between India's four most common curricula: CBSE, ICSE, IB, and IGCSE. We hope this article has helped you with some insights and know-how of the various options available in the Indian Education System.